For May 29, 2022
While on earth, our Lord submitted Himself to His Father, our Lord God, and resisted the Devil successfully. As we emulate Christ, James 4:7 teaches we too can "resist the Devil, and he will flee from us."
Because Christ persevered and triumphed, we have the victory with the promise that no weapon formed against us will prosper (Isaiah 54:17). He dispatches His angels to keep us from danger, while His Holy Spirit dwells within to comfort us (John 14:16-18). Here is what the Psalmist observes,
He who dwells in the secret place of the Most High Shall abide under the shadow of the Almighty. I will say of the Lord, "He is my refuge and my ortress; My God, in Him I will trust." Surely He shall deliver you from the snare of the fowler And from the perilous pestilence. He shall cover you with His feathers, And under His wings you shall take refuge; His truth shall be your shield and buckler. You shall not be afraid of the terror by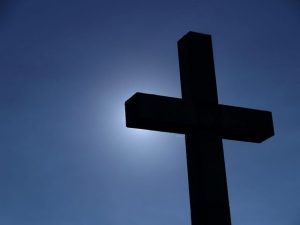 night, Nor of the arrow that flies by day, Nor of the pestilence that walks in darkness, Nor of the destruction that lays waste at noonday. A thousand may fall at your side, And ten thousand at your right hand; But it shall not come near you. Only with your eyes shall you look, And see the reward of the wicked. Because you have made the Lord, who is my refuge, Even the Most High, your dwelling place, No evil shall befall you, Nor shall any plague come near your dwelling; For He shall give His angels charge over you, To keep you in all your ways. In their hands they shall bear you up, Lest you dash your foot against a stone. You shall tread upon the lion and the cobra, The young lion and the serpent you shall trample underfoot. "Because he has set his love upon Me, therefore I will deliver him; I will set him on high, because he has known My name. He shall call upon Me, and I will answer him; I will be with him in trouble; I will deliver him and honor him. With long life I will satisfy him, And show him My salvation." Psalm 91 (NKJV)
We are not invincible, for even the Lord's Apostles were persecuted and martyred. Nevertheless, eternal blessing is certain because we belong to the Lord, whether we are living in this world or have gone to the next. He sustains us through our persecution and suffering while protecting us from Satan and the other forces at work against us (Romans 14:8, Revelation 14:13).
The Apostle John was the last remaining disciple. While in exile on the Isle of Patmos, he had time to reflect on the three years he shared with our Lord, the other disciples (now gone), as well as Pentecost and the growth of the New Testament church. Despite the persecution from the tyrannical Roman emperors, John did not renounce his faith. Instead, he persevered, just as the Lord predicted,
Now I am no longer in the world, but these are in the world, and I come to You. Holy Father, keep through Your name those whom You have given Me, that they may be one as We are. While I was with them in the world, I kept them in Your name. Those whom You gave Me I have kept; and none of them is lost except the son of perdition, that the Scripture might be fulfilled. John 17:11–12 (NKJV).
There may be times when persecution and adversity cause us to doubt the Lord. As with the three Hebrew boys presented in Daniel 3, we may find ourselves in a "fiery furnace." But we can be assured God has not abandoned us. He will give us the extraordinary resolve to count it all joy because our unspeakable treasure is not on the earth—it is in Heaven.
We face many hardships in today's world, and to the casual observer, there is much uncertainty. However bleak our situation might appear, our circumstances do not negate God's love, grace, and mercy, nor do they reveal His desertion because nothing can separate us from His love. In the final analysis, all the things we experience will work together for our good (Romans 8:28).
The Lord Himself will acknowledge us as He does His faithful Philadelphia Church,
And to the angel of the church in Philadelphia write, 'These things says He who is holy, He who is true, "He who has the key of David, He who opens and no one shuts, and shuts and no one opens": "I know your works. See, I have set before you an open door, and no one can shut it; for you have a little strength, have kept My word, and have not denied My name. Indeed I will make those of the synagogue of Satan, who say they are Jews and are not, but lie—indeed I will make them come and worship before your feet, and to know that I have loved you. Because you have kept My command to persevere, I also will keep you from the hour of trial which shall come upon the whole world, to test those who dwell on the earth. Behold, I am coming quickly! Hold fast what you have, that no one may take your crown. He who overcomes, I will make him a pillar in the temple of My God, and he shall go out no more. I will write on him the name of My God and the name of the city of My God, the New Jerusalem, which comes down out of heaven from My God. And I will write on him My new name. "He who has an ear, let him hear what the Spirit says to the churches." ' Revelation 3:7-13 (NKJV)
Our toils and disappointments serve as constant reminders of the presence of sin in our world, which contrasts His magnificent Kingdom. There, all our toil and suffering will be forgotten instantly the moment we see Jesus Christ in His full majestic splendor (Revelation 21:3-4).
The Bible assures us we can be steadfast and ever vigilant in pursuing our incorruptible inheritance because we are kept by God's power "through faith unto salvation, ready to be revealed in the last time" (1 Peter 1:3–5). Won't you trust the Lord, our God, to sustain you today?
What a Wonderful Savior!