For June 26, 2022
Psalm 91 remains one of the most beloved Psalms; having provided God's people with a rich fervor and comfort unlike any other Psalm for three thousand years. We cannot underestimate its significance as a rich source of encouragement during moments of trial.
Even the Enemy, Satan, used a paraphrase to tempt our Lord in a futile attempt to dissuade Him from fulfilling His redemptive mission. (cf. Matthew 4:6, Luke 4:10-11.)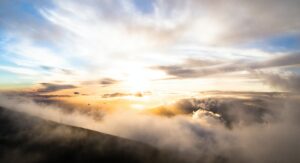 This most wonderful passage begins with these comforting words,
He who dwells in the secret place of the Most High Shall abide under the shadow of the Almighty. I will say of the Lord, "He is my refuge and my fortress; My God, in Him I will trust." Psalm 91:1-2 (NKJV)
This palm provides us with a practical application of God's Word that relates to our human experience, as this author observes,
[God's Word] meets the deepest needs of the soul—by solutions of its problems, disclosures of God's character, presentations of the way of pardon, consolations and promises for life and death.1
The Psalmist uses metaphorical language to create a picture of God's tender care as our protector and provider, like an eagle for its brood in the mountain nest. It this way it illustrates God's protection and faithfulness; especially when we face danger as another writer attests,
In its exquisite beauty it reflects deep trust and confidence. Those in communion with God are assured of a holy serenity and security at all times. Jehovah is a sure defense.2
The Psalmist shows God to be the one who shelters and protects His children; shielding us tenaciously from all danger with His two wings: preservation and providence—even in today's world.
By faith in Christ, we can know God's love and abiding presence, so that despite our circumstances, we can find the Lord to be faithful to His Word and protective of His beloved children. Over two thousand years of human history, the testimonies of His Saints continue to affirm 2 Timothy 1:12 (NLT),
I know the one in whom I trust, and I am sure that he is able to guard what I have entrusted to him until the day of his return.
Psalm 91 is a testament of God's presence on our spiritual pilgrimage. Although He may seem hidden in moments of our darkest despair, He is faithful to meet our needs as He promises and is always our "present help in trouble." (Psalm 46:1) Won't you give the Lord your heart today and know Him personally?
What a Wonderful Savior!