For July 10, 2022
In the Book of Acts, we witness the formation of the Christian Church and the evangelistic activities of the Apostles and First Century Christians unfolding before us. It begins with the Lord telling His Followers to wait in Jerusalem for the promise of the Holy Spirit. (Acts 1:4-5)
On the Day of Pentecost, the Holy Spirit descended on those who were in the upper room, in one accord, praying and waiting intently for God's manifestation. Under the Holy Spirit's power, they boldly proclaimed the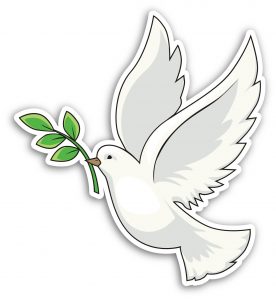 Gospel, the message of Jesus' death, burial, and resurrection for the forgiveness of sins and the gift of eternal life. As a result, the "Good News of Jesus Christ" spread from Jerusalem to every corner of the world.
Miraculous signs and wonders followed as these Spirit-powered men and women as they shared their testimonies of having encountered the living Christ personally; He was no longer dead, but alive and victoriously seated at the right hand of God.
As their message "turned the world upside down" (Acts 17:6), they became a threat and encountered severe backlash from established religions and the government. Although criticized, persecuted, beaten, imprisoned, martyred, the Christian movement or The Way (cf. Acts 9:2; 22:4) continued to grow exponentially numerically while also spiritually flourishing as well.
In the face of opposition, they found that eternal peace that the Lord had promised them a few days earlier,
Peace I leave with you; my peace I give you. I do not give to you as the world gives. Do not let your hearts be troubled and do not be afraid. John 14:27 (NIV)
This new paradigm is forged from an extraordinary inner transformation, through the Born Again experience that finds its power and scope in our eternal connection with God where we can fully practice our faith, hope, and love to His glory and our collective benefit.
The vicarious work the Lord performed at Calvary's Cross on our behalf inspires our humility and gratitude. He loved us and died for us when we were sinners with no desire for Him or the things of God.
We now can have the presence of His Holy Spirit within us to impart a deep abiding faith in the Lord, a hope for His promise of eternal life, and an unselfish love for God and others.
Because we are sin-tarnished, we must place our faith in Jesus Christ as our Lord and Savior and His perfect righteousness at all times. There is no place for our self-righteousness, which will always be "filthy rags" even on our best day. (Isaiah 64:6)
When we encounter problems, God supplies us  with a peace that defies logic, as we pray and trust in Christ to resolve the issue perfectly, as the Bible teaches us (my emphasis),
Rejoice in the Lord always. I will say it again: Rejoice! Let your gentleness be evident to all. The Lord is near. Do not be anxious about anything, but in every situation, by prayer and petition, with thanksgiving, present your requests to God. And the peace of God, which transcends all understanding, will guard your hearts and your minds in Christ Jesus. Philippians 4:4-7 (NIV)
Jesus wants to give us His peace as we await His glorious return. Won't you give Him your heart today and receive His deep, lasting, incomparable peace? Got peace today?
What a Wonderful Savior!