For September 4, 2022
When someone acknowledges that they have accepted Christ as their personal Savior, their moral and spiritual dimensions improve drastically as they become new creatures in Christ. No longer bound by sin, we live a life free to choose God's best for us without the influence of sin and self to distract us,
Jesus replied, "I tell you the truth, everyone who sins is a slave of sin. A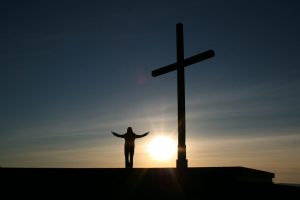 slave is not a permanent member of the family, but a son is part of the family forever. So if the Son sets you free, you are truly free." John 8:34-36 (NLT)
When we put our faith in Jesus as our personal Lord and Savior, we become Born Again. His Holy Spirit enlivens us; just as if He turns on the "no longer dead" switch inside us. We come to know His deep, lasting peace, joy and fulfillment. And when God looks at us, He does not see our sin. He sees Jesus' righteousness.
Our spiritual transformation is unlike anything we could ever know or experience in this life. For the first time, we can know and love Him as our merciful Redeemer. We are His offspring, and like newborn babes, we yearn for more of His presence and intimacy. Christ in us becomes our hope of glory and power over sin,
What shall we say, then? Shall we go on sinning so that grace may increase? By no means! We are those who have died to sin; how can we live in it any longer? Or don't you know that all of us who were baptized into Christ Jesus were baptized into his death? We were therefore buried with him through baptism into death in order that, just as Christ was raised from the dead through the glory of the Father, we too may live a new life. For if we have been united with him in a death like his, we will certainly also be united with him in a resurrection like his. For we know that our old self was crucified with him so that the body ruled by sin might be done away with, that we should no longer be slaves to sin—because anyone who has died has been set free from sin. Romans 6:1-7 (NIV)
There are people who claim to know Jesus, and yet they have no desire to know Him. They are the professors whose god is the self. Their life's mission is to get all they can with little or no consideration for God or the welfare of others.
On the other hand, possessors need the Lord Jesus Christ, and they invite Him to live and reign in their hearts. They earnestly seek Him as He satisfies their every desire and meets their needs.
We can be forever grateful to the Lord Jesus Christ for the everlasting life we have received and will soon experience. To secure this eternal and amazing gift of God's grace and love, He performed a wonderful sacrifice on Calvary's Cross on our behalf we were unwilling and incapable of performing for ourselves. Since He rose from the dead, we know for certain that we too will triumph over death,
And if Christ has not been raised, then your faith is useless and you are still guilty of your sins. In that case, all who have died believing in Christ are lost! And if our hope in Christ is only for this life, we are more to be pitied than anyone in the world. But in fact, Christ has been raised from the dead. He is the first of a great harvest of all who have died… But thank God! He gives us victory over sin and death through our Lord Jesus Christ. 1 Corinthians 15:17-20, 57 (NLT)
Proverbs 4:18 (NIV) reads: "The path of the righteous is like the morning sun, shining ever brighter till the full light of day." As we walk in the power of the Holy Spirit, we become His resplendent witnesses who glorify the Lord while blessing others and ourselves in the process. Won't you try Jesus and let Him give you the victory over sin and death today?
What a Wonderful Savior!