For September 18, 2022
A typical human responses to conflict is to fight, flight, or avoid (suppress). However, Jesus Christ instituted a higher standard that we as Christians are to follow,
Blessed are those who are persecuted for righteousness' sake, for theirs is the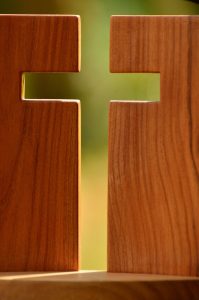 kingdom of heaven. Blessed are you when they revile and persecute you, and say all kinds of evil against you falsely for My sake. Rejoice and be exceedingly glad, for great is your reward in heaven, for so they persecuted the prophets who were before you. Matthew 5:10-12 (NKJV)
Jesus Christ, our Lord and Savior lived a life that fulfilled God's Law and introduced faith principles that both separate and distinguish His Followers from the world. They also answer these five essential questions,
How unshakable is my faith in Jesus Christ?
How important is my relationship with the Lord Jesus Christ and my love for God?
Since I have accepted Christ as my Savior, have I made Him my life's priority?
Am I willing to surrender all my worldly pursuits and possessions to Him?
Am I willing to obey God's Word (the Bible), and use it as the standard governing my life?
Jesus tells us to turn the other cheek when challenged and not to resist evil. We also go the extra mile, extend ourselves to those in need, love our enemies, and forgive "seventy times seven" even if the offending person does not ask for forgiveness. (cf., Matthew 5:38-48; 6:14-15, 18:21-22) Instead of retaliation, we trust the Lord for justice, since vengeance is His, and He will repay. (Romans 12:19)
Jesus Christ is our supreme role model for expressing these remarkable characteristics our broken world deems as "abnormal." As the "Body of Christ" (1 Corinthians 12:27), we function at various levels of similitude because of our vastly different levels of spiritual growth. We do not have His innate moral and spiritual perfection, for if we were perfect, we'd have no need for Him as our Savior.
The Book of Acts offers a snapshot of the Christian Church's formation through the evangelistic work of the Apostles and other First Century Christians. Even the most casual reader must acknowledge the global spiritual, moral, social, and historical impact they made under the Lord's authority,
And Jesus came and spoke to them, saying, "All authority has been given to Me in heaven and on earth. Go therefore and make disciples of all the nations, baptizing them in the name of the Father and of the Son and of the Holy Spirit, teaching them to observe all things that I have commanded you; and lo, I am with you always, even to the end of the age." Amen. Matthew 28:18-20 (NKJV)
Acts begins with the Lord instructing His Followers to wait in Jerusalem until they receive the promise of the Holy Spirit. Then, it tells how, on the Day of Pentecost, the Holy Spirit descended on them while they were in the upper room, praying in one accord, and waiting for God's manifestation to appear.
All at once, they proclaimed the message of Jesus' death, burial, and resurrection for the forgiveness of sins and the gift of eternal life under the Holy Spirit's power with great boldness, conviction, and courage. Almost overnight, the Gospel or "Good News" of Jesus Christ spread from Jerusalem to every remote corner of the world.
Miraculous signs and wonders followed these Spirit-powered men and women as they shared how they encountered the living Christ individually. His tomb was empty; He was no longer dead, but alive and seated at the right hand of God. Their message "turned the world upside down." (Acts 17:6)
They encountered severe backlash, as they became a threat to established faith groups and the Roman government. When challenged today, we often become combatant and organize a protest campaign, but not so with these First Century Followers of Christ. As the world ridiculed, criticized, persecuted, imprisoned, condemned, and martyred them, the Christian movement or The Way continued to grow exponentially and flourish spiritually. (cf., Acts 9:2; 22:4)
People noticed how Jesus Christ was with them and that He gave them an unnatural response to hostility (my emphasis),
Now when they saw the boldness of Peter and John, and perceived that they were uneducated and untrained men, they marveled. And they realized that they had been with Jesus. (Acts 4:13)
Further,
So they departed from the presence of the council, rejoicing that they were counted worthy to suffer shame for His name. (Acts 5:41)
They didn't evade pressure, run from conflict, hide from their persecutors, or conform to the secular societal demands their enemies had imposed on them. They understood that our battle is not against physical foes, it's against sinister spiritual ones. (cf., John 18:36, 1 Corinthians 10:3-6, Ephesians 6:10-18) Therefore, they welcomed trials and rejoiced through them, knowing that although we are in the world, we are not of it. As our Master suffered, we too must suffer, just as He forewarned,
If the world hates you, you know that it hated Me before it hated you. If you were of the world, the world would love its own. Yet because you are not of the world, but I chose you out of the world, therefore the world hates you. Remember the word that I said to you, 'A servant is not greater than his master.' If they persecuted Me, they will also persecute you. If they kept My word, they will keep yours also. John 15:18-20 (NKJV)
They resolved to endure all things for their Savior. Standing firm in their convictions, they continued their normal, day-to-day activities by preaching, teaching, and living out their faith in Christ. Each day they grew more resolute for Christ, fully persuaded that whatever the outcome—good or bad—He was with them, and He was preparing a glorious Heavenly home for them as well. His shed blood and physical resurrection, along with the indwelling of the Holy Spirit, made their eternal destiny certain.
This is the core of our compelling Christian witness: Jesus Christ has given us the victory over sin and death,
These things I have spoken to you, that in Me you may have peace. In the world you will have tribulation; but be of good cheer, I have overcome the world. John 16:33 (NKJV)
Also,
But thanks be to God, who gives us the victory through our Lord Jesus Christ. Therefore, my beloved brethren, be steadfast, immovable, always abounding in the work of the Lord, knowing that your labor is not in vain in the Lord. 1 Corinthians 15:57-58 (NKJV)
While we tarry in this sin-broken world, we will not triumph over all the conflicts we face. Yet, our Lord will never to leave or forsake us, even in difficult and uncertain times, and whatever trial we face, He will not let us suffer more than we can bear. Instead, He makes the way of escape so we can endure it. (cf., Deuteronomy 31:8, Psalm 23:4, 1 Corinthians 10:12-13)
The Spirit of our living, reigning Lord and Savior, Jesus Christ, Who subjected Himself to every human affliction and overcame, abides within us, and He gives us the ability to rejoice or glory, Greek kauchaomai (Strong-G2744)1, in our tribulations.
Jesus Christ, the same yesterday, today, and forever. (Hebrews 13:8) Won't you give Him your heart today so that you can experience His victory over sin and death?
What a Wonderful Savior!