For September 25, 2022
Faith is a mystery that is essential to a redeeming fellowship with God. Hebrews 11:1 (NKJV) tells us that faith is the "substance of things hoped for, the evidence of things not seen," while Hebrews 11:6 (NKJV) teaches,
But without faith it is impossible to please Him, for he who comes to God must believe that He is, and that He is a rewarder of those who diligently seek Him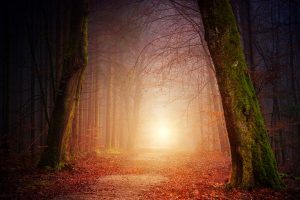 The Lord wants us to have an unwavering confidence that He will never leave or forsake us and that He will always intervene for us in ways that will promote our best interest,
And we know that all things work together for good to those who love God, to those who are the called according to His purpose. Romans 8:28 (NKJV)
The Father of the Faith, Abraham waited twenty-five years before God fulfilled His promise that Sarah will have a son, Isaac. He depended on the unseen and unrealized, and God rewarded him in due time, as Romans 4:18-22 (NIV) tells us,
Against all hope, Abraham in hope believed and so became the father of many nations, just as it had been said to him, "So shall your offspring be." Without weakening in his faith, he faced the fact that his body was as good as dead—since he was about a hundred years old—and that Sarah's womb was also dead. Yet he did not waver through unbelief regarding the promise of God, but was strengthened in his faith and gave glory to God, being fully persuaded that God had power to do what he had promised. This is why "it was credited to him as righteousness."
Jesus challenges us to be fully persuaded about trusting Him although no person living today was present during His life, ministry, death, and resurrection two-thousand years ago.
Then Jesus told him, "Because you have seen me, you have believed; blessed are those who have not seen and yet have believed." John 20:29 (NIV)
Faith in the unseen is difficult to grasp for a capricious post-modern world. Yet, our Lord wants us to trust Him without wavering,
But when you ask, you must believe and not doubt, because the one who doubts is like a wave of the sea, blown and tossed by the wind. That person should not expect to receive anything from the Lord. Such a person is double-minded and unstable in all they do. James 1:6-8 (NIV)
Living, a vibrant faith in God is possible when we are confident that He will do exactly what He promised to do. We can abide in the steadfast promises so that we can experience His eternal peace and fulfillment fully.
God is holy, and we are sin-tainted. His response to sin is judgment (wrath). Thus, we are "children of wrath," who are racing towards a fiery Hell where the worms never die, and the fire burns forever. Yet our God, rich in mercy, intervened by washing away our sins, making us righteous, and restoring our lost fellowship.
A sinless Jesus Christ shed pristine blood to satisfy God's righteousness and remediate our sin problem forever. By our faith in Christ, we can experience His perfect plan for our salvation,
For God so loved the world that He gave His only begotten Son, that whoever believes in Him should not perish but have everlasting life. For God did not send His Son into the world to condemn the world, but that the world through Him might be saved. John 3:16-17 (NJKV)
To receive the Lord's blessed reward, we must have a tenacious faith and courage to trust God, even when we cannot see the outcome. We can be fully persuaded today, knowing that Christ completed God's will for our redemption, and He will provide positive outcomes for His precious children. Won't you trust Lord today and experience His perfect will that can transform your life?
What a Wonderful Savior!